NO BUSINESS IN BUSINESS
Tuesday, December 05, 2006
Whos the cutest of them all?
Jon Lovitz in High School High
Topcrush
is a Toronto based T-shirt line that has been around for about a year but seems to be way ahead of its time. Initially created by Jess Chen as a crafts project in the fall of 2005, she looked to both celebrities (particularly Larry Fishburn, Christopher Walken and Woody Allen) and sidewalk characture painters (for their simple yet quick details) for influence. It wasnt long before friends and strangers alike were making demands for t-shirts via myspace.
Currently she counts Data (of Star Trek fame), Klaus Kinski (the shirt that made her go serious), Dr. Who (the fella with the scarf), Vladimir Kato and Bill Cosby as some of her creations.
When asked about how long it maybe before the handdrawn picture/tshirts fade she said
"I know, that seems like a cop-out for not having something 100% permanent, but I really do feel that way. Noone is ever completely permanent about who they admire or deem a hero, not forever, people change."
Thats a lie Jess, Bobby Brown will ALWAYS BE KING.
Check out more Topcrush
here
and expect it to be in stores like
Delphic
soooooon.
-CeePee
Tuesday, November 21, 2006
Metalheads got hearts too
Rockers to sponsor under-10 team
A Lincoln boys football team have won a sponsorship coup with a difference after striking a deal with heavy metal band Motorhead.
The Greenbank under-10s B team have the internationally renowned band's name on their shirts along with the band's motif - a skull named Snaggletooth.
More here
-CeePee
Friday, November 17, 2006
Jon Naar: Superstar
Jon Naar was gracious enough to grant Toronto his presence on the 12th of November at Reset with a short presentation. Jon has been around for nearly 60 years taking photographs of almost everything. Although he is well known for is his documentation of the birth of grafitti in the early 70's, his photographs have captured a variety of subjects (including friends like Andy Warhol) and have reached incredible acclaim (all of which can be found in his newest book "Getting the Picture".
He will hopefully be returning in 2007 (at the age of 87) to celebrate the sequel to his book "The Faith of Grafitti", "The Birth of Grafitti". The book will examine many outtakes that never made it to the first book. Keep an eye out for it, its bound to be redhot shit. Check out more Jon Naar,
here
.
Jon answering questions and keeping it real.

A rare copy of "The Faith of Grafitti"

-CeePee
FUCT up
Remember
FUCT
clothing?
Yeah, well they are still on top of their game. Fuct has been around since 1990 and was started by Erik Brunetti (aka DEN ONE, read up on your graf game). Fuct has stayed strong over the last 16 years and its new fall/winter line is hitting harder than a Mike Tyson on pcp. Just released, his newest line takes inspiration from a great variety of sources from East LA Gangs to Sudanese freedom fighters. You can check out (and even buy gear) at the
FUCT
website as well as
Krudmart
(with whom they did a great collabo last season). Check local TO stores (like
Reset
) soon for more FUCT gear.
-CeePee
Tuesday, November 14, 2006
QUALITY : ALWAYS IN DEMAND.
Humongous,
a line out of Toronto, prides themselves on high quality and great detail. Most of the inspiration tends to draw from the darker side of life (please note prior influences such as The Exorcist and the Fall/Winter collections 'Now its dark/Blue Velvet' shirt).
Their Fall/Winter collection, has just dropped at
Nomad
in Toronto and
I.E.
in Vancouver. Theyve decided to keep last seasons headwear line, entitled cheekily 'In Cold Blood'. Check out more of their dope bits and pieces
here
.
-CeePee
Thursday, November 09, 2006
COMING SOON!
Sunday, November 05, 2006
ROCK-RAP
Sir Mix-A-Lot is pretty much to blame for my taste in hip-hop, (meaning i like hip-hop that skids can get into). I was in grade 5 when this came out, and it always made me feel like fighting. aaaaaaaaahhhhhhhhhhhggggggggg.......
Friday, October 13, 2006
California: The Cereal State

Its filled with fruits and nuts.

My god.
From the brilliant channel that brought you "Lets Paint on Tv".
Its called the Adelphia Public Access Channel.
The lovely lady above, Francine Dancer (for obvious reasons).
From what ive read, there is alot more talent where this came from.
Tonight (friday the 13th)
Reset Clothing
(803 Queen St. west) and Top Shelf Motherfucker will be collaborating with Toronto Alternative Fashion Week (FAT) by participating in a series of "flash fashion shows" around Toronto's downtown core.
A team of models, sporting the latest gear from Reset and Top Shelf will be parading around College St (between Bathurst and Ossington)promoting this year's FAT. the show starts at approx 10pm at College and Bathurst traveling west and will go until about 12pm-1am. come out, take some pictures with the models, grab a flyer or two and check out what both of Reset and Top Shelf have coming out very very soon.
Also czech out this ish coming up in the next week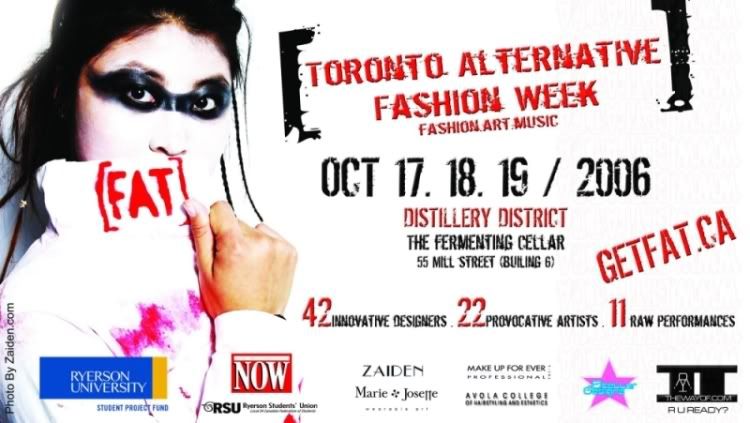 -CeePee (as conveyed by Sakro)


*Please note that other than the title, Michael McDonald has nothing to do with this post. Although he should. Lookit the man. Im sure hes worshipped as a deity in some countries and rightfully so. That smokey voice and that silver hair.